We offer employer full support of Philippine Accreditation Procedure
Employer needs to follow "Accreditation and registration procedure" to recruit and hire Filipino workers.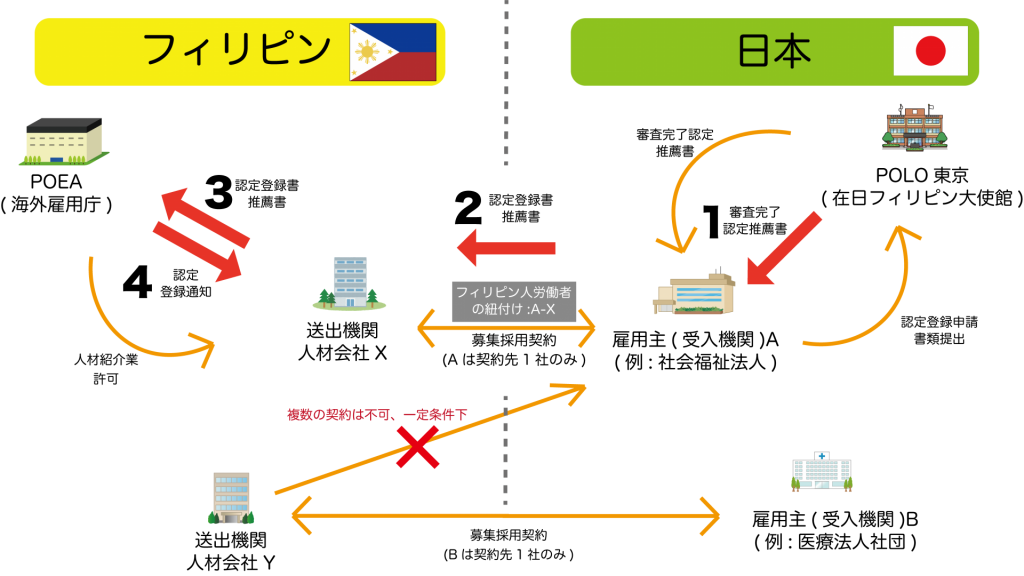 ・Overseas employment of Filipino workers is important for the Philippines as inflow of remittance from them accounts for about 15% of GDP.
・To protect overseas Filipino workers, the Philippine government requires overseas employer as accepting organization to follow accreditation procedure.
・For this procedure, overseas employer is required to have recruitment agreement with a Filipino licensed recruiting agent as sending organization. and the two parties of the agreement are registered with POEA. Their recruited Filipino workers are tied to this accreditation and registration.
・・・Recruitment agreement between the two parties stipulates solidarity liability for protection of Filipino workers
・・・Overseas employer is allowed to have recruitment agreement with only one Filipino recruiting agent and no multiple agreements allowed (under certain conditions)
・Accreditation documents must be developed and submitted to POLO in English and the interview with POLO is conducted in English.
・Recruiting activities are allowed only after the accreditation procedure is completed. Filipino workers hired by employer are tied to the accreditation and registration of the pair of recruitment agreement for their management.
Full support to Accreditation Procedure
■Contents of services
・Development of documents of application for Accreditation
All application documents need to be developed in English. We produce Japanese version for each of the English documents for reference of employer. In addition, we develop English translation of official documents such as Certificate of All Matters Recorded in the Registry (corporate registration) and Business License Permit. Furthermore, concrete advice is provided to individual case of application.
・Interpretation
At the end of this Procedure, interview between POLO official in Japan and representative of employer is conducted in English. We offer employer interpretation service.
・Assistance with conclusion of recruitment agreement and English communication for implementation of this Procedure
The purpose of this Procedure is to have accepting organization in Japan and sending organization in the Philippines assume jointly liability for protection of Filipino care workers, which takes the form of requirement to have recruitment agreement between accepting and sending organizations.
※This agreement is needed in addition to employment placement contract between employer and our company.
■Service costs:
Service costs are included in the fees stipulated in the recruitment agreement above.
■Actual results:
This service has recently been provided to an operator of nursing care homes located in Ibaraki prefecture.